Navigate 60-day dispensing,
insulate yourself against cash shortages
With 60-day dispensing immanent, how will this massive change impact community pharmacies? How can they minimise the revenue implications and emerge stronger and ready for growth?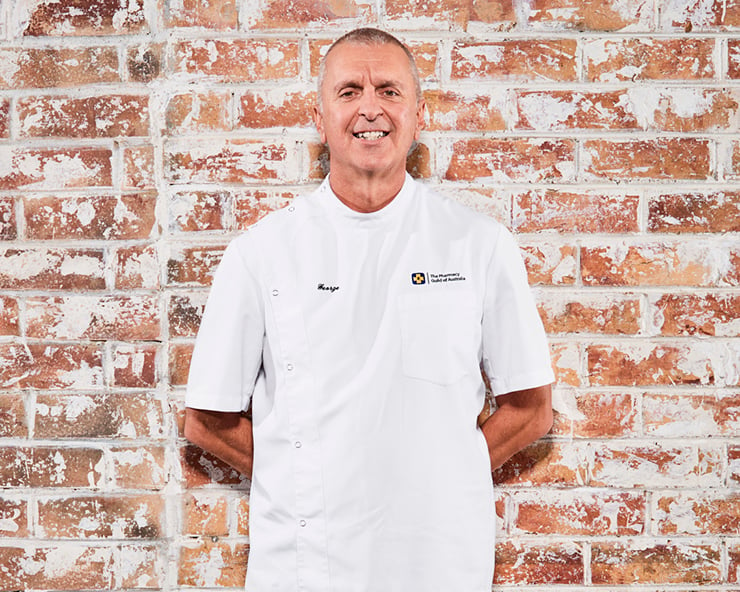 Interview with: George Tambassis
Former National President of the Pharmacy Guild of Australia, community pharmacy group owner.
While the short-term future for pharmacies is challenging, George is by no means pessimistic. He recommends a series of measures that community pharmacies can take to mitigate financial losses, increase their cash and modify their business models to embrace new revenue streams. With immediate action to secure additional capital, he says, pharmacies can turn these changes into an opportunity.
The coming adjustments to the Pharmaceutical Benefits Scheme (PBS), which will allow patients to buy 60 days of medication for the same price as the usual 30-day prescription, have created turmoil in the sector, with forecasts of hundreds of pharmacy closures, thousands of job losses and huge cuts in revenue.
An independent report published by the Pharmacy Guild of Australia (the Guild) says the policy could cut $4.5 billion from community pharmacies over the next four years. The federal government has promised to reinvest the revenue in pharmacy businesses, but this is the key uncertainty. Nobody knows if this will happen, or when. In fact, bewildered pharmacies will have to navigate a host of unknowns before 60-day dispensing is fully implemented on 1 September 2024.
"Pharmacies need to act now with a company like TradeBridge, so they have finance in place to draw down quickly, whenever they need it".
George Tambassis, Multiple Community Pharmacy Owner
Cash shortages
George is very clear that 60-day dispensing represents a substantial cut to pharmacy revenue. "It's better described as 'two for the price of one'," he says. "The federal government wants us to provide two lots of medicines, but they'll only pay for the first. We have to supply the second at cost price, with no increase in profit margin despite our additional costs." Across 6,000 pharmacies nationwide, he warns that the average pharmacy (with annual turnover of $2.5m) is expected to lose between $150,000 and $180,000 in net profit each year.
The implications for cashflow, stock levels and day-to-day operations in pharmacy businesses are "scary, intimidating and perplexing," George reveals. 320 medicines are on the 60-day PBS list, but the first tranche of 92 drugs, to be prescribed from 1 September, will account for 63% of the scheme's total volume. That means pharmacies must double their stock of the fastest-moving medicines in advance and do it quickly. For many businesses, this will require access to extra cash. "Even if they manage to strike a reasonable deal with a supplier in advance," he warns, "pharmacies probably won't have enough money on hand to double their order overnight."
A complicating factor is that pharmacies can't buy stock now, even if they have the capital. This is partly because of order limitations from wholesalers, George explains, but mainly because drug prices are currently too high. Prices are forecast to come down on 1 September, and pharmacies facing an uncertain future won't risk buying before then. Plus, even if they can stock up early, they have no way of forecasting demand. Doctors will have complete discretion to prescribe either 30 or 60-day prescriptions, and the pharmacy won't know until a customer presents their prescription.
How revolving credit can help
"With so many unknowns, pharmacists don't really know what to do," George says. But what is clear, he explains, is that they will need to stock up soon, and they will need access to more cash to do that. "By 1 October at the latest," he warns, "all pharmacies must have at least doubled their normal stock of these initial 92 medicines, or they risk disaster." If they run short of cash, pharmacies run the risk of missing direct debit payments to wholesalers, which means they could run out of medicines.
"Access to working capital from TradeBridge will be a vital tool that helps pharmacies navigate the chaos of 60-day dispensing over the next 12 to 18 months," he explains. "Their revolving credit facility isn't like a fixed loan. It's a pool of capital you can access whenever you need to, and only pay for what you use. This discretionary aspect is important, because pharmacies can't be sure how much cash they're going to need."
Despite the uncertainty, George is very clear that following a 'wait and see' approach is the worst thing pharmacies can do. The best way to offset the damage of 60-day dispensing, he advises, is to take action now to access extra cash. "Pharmacies need to act now with a company like TradeBridge," he says, "so they have finance in place to draw down quickly, whenever they need it."
Streamlining and commercial growth
The Guild, alongside pharmacy chains like Priceline, is recommending that pharmacies immediately cut costs by stopping free services such as blood pressure checks, home deliveries and packing medicines for patients with chronic conditions. With big revenue cuts predicted, pharmacies are already looking seriously at cutting staff levels – one of the easiest expenses to control – as well as reducing their opening hours.
"Access to working capital from TradeBridge will be a vital tool that helps pharmacies navigate the chaos of 60-day dispensing over the next 12 to 18 months,"
George Tambassis, Multiple Community Pharmacy Owner
On top of cutting free services, George says pharmacy businesses need to become more commercial and do a full audit of their operation to see where they can tweak their pricing, their services, and introduce efficiencies – to try and recoup some of the $180,000 they could lose each year.
Tough challenges for the smallest.
George predicts that smaller operators turning over less than $2.5 million per year will suffer more in the coming months, while businesses turning over less than $1 million will struggle the most. But the most nervous people he has heard from are newer operators who have just bought into their first pharmacy. "They may have a huge loan already," George says. "Their usual lender may not be willing to help them further and may not grasp the issue anyway. This makes TradeBridge even more appropriate because these guys are pharmacy specialists who know all about 60-day dispensing, while a big lender probably won't." The other advantage is that a revolving credit facility doesn't have to add to a new owner's monthly borrowing costs, which may already be quite a burden. When you only pay on what you draw, with no fixed repayments, you can better control your regular expenses and maximise your cash efficiency.
Seize opportunity amidst trials.
Despite the upheaval of 60-day dispensing, some great opportunities have emerged for entrepreneurial pharmacies to grow their businesses and cushion themselves against cuts by offering new services to generate fresh income streams. George supports the federal government's goal of encouraging pharmacies to diversify from dispensing and adopt services like vaccinations to ease the burden on GPs – one area where the Guild is also in agreement.
"The Guild is trying to support all pharmacies to set their businesses up so they're cushioned from cuts to dispensing income and can administer more medicines directly," he explains. "More and more medicines have to be administered through the skin, and some we have to train patients to administer themselves, such as Ozempic. This is the big opportunity for pharmacies going forward."
With opportunities as well as challenges ahead, a long-term, flexible credit facility can help pharmacies do much more than weather the storm. With ongoing support from TradeBridge, pharmacy owners could invest in staff training, equipment or a new consulting room, for example, so they can administer COVID, flu, whooping cough or cervical cancer vaccines. "We're living through a paradox," George says. "Owners like me are looking at reducing staff to cut costs, but we also want to invest in training them to administer vaccines, which is a growing revenue area."
The TradeBridge pedigree.
TradeBridge is a long-established market leader in pharmacy finance that works with over 500 pharmacy businesses in the UK, but it's a name that pharmacists in Australia may not know. As one of our early customers in Australia, George has first-hand experience of how we can help pharmacy businesses to achieve their ambitions. His advice to pharmacies not familiar with TradeBridge is to get in touch with us and ask questions. "Reach out and speak to the people behind it," he recommends. "Get on the phone to Will at TradeBridge or speak to someone like me for advice, so you get a full picture of what they do."
Ready to talk?
If you'd like to know more about how our facility can help your pharmacy achieve its ambitions, contact me, Will Davison at:
Call: +61 (0)434 392 164 or email will@tradebridge.com
Alternatively you can contact the team at australia@tradebridge.com